THE EUROPEAN SLAPP CONTEST 2022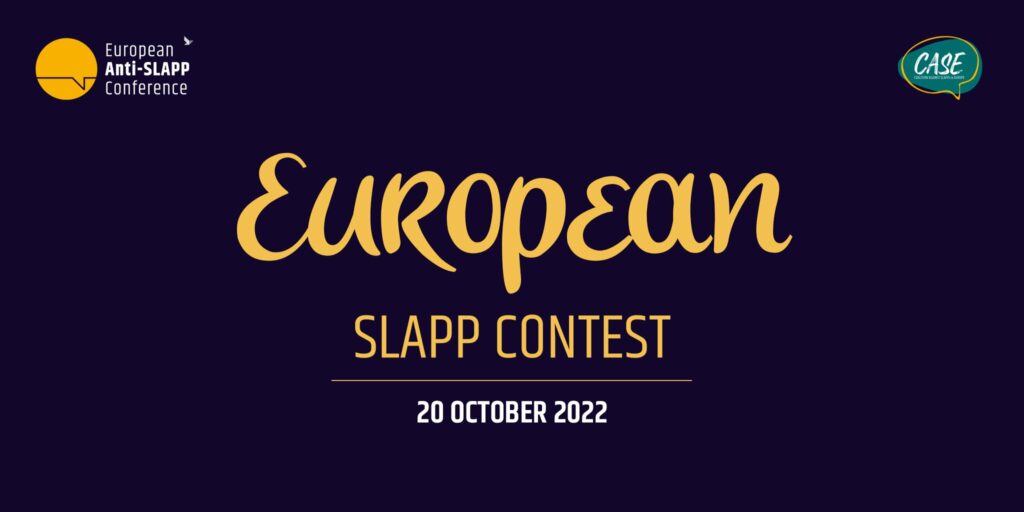 Meet members of the jury of the 2022 European SLAPP Contest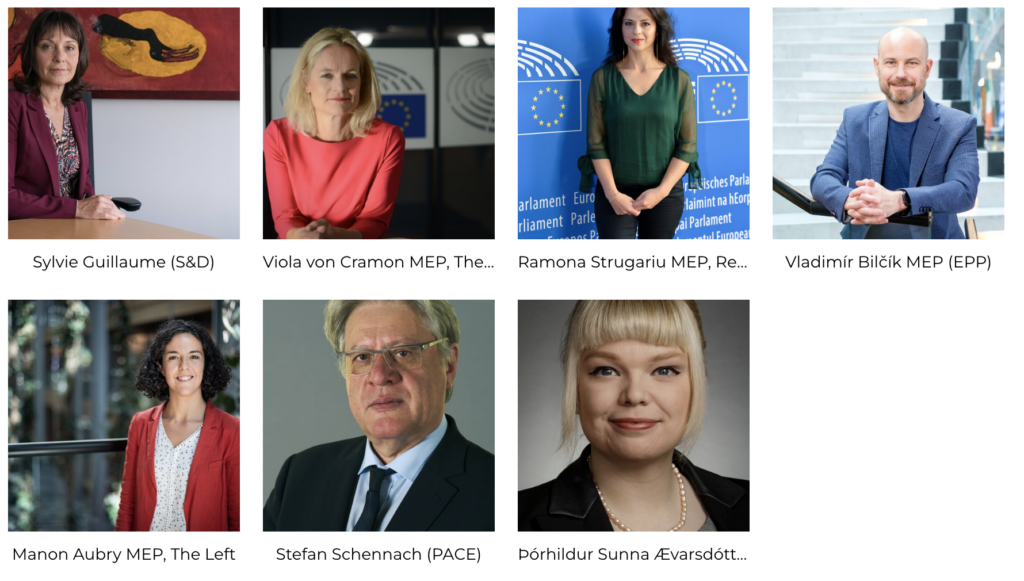 1. BULLY LAWYER(S) OF THE YEAR
Awarded to the lawyer or legal organisation that has facilitated the most abusive and aggressive legal strategies or intimidation tactics on behalf of their clients.
Damen is a Belgian lawyer, who has filed multiple lawsuits against the news site Apache on behalf of his client, Erik van der Paal, a project developer. Apache was hit with several proceedings on grounds of civil defamation and breach of reputation as well as for stalking and invasion of privacy under criminal law. All civil actions against Apache were dismissed and in a criminal case (the journalists of) Apache were acquitted. The Antwerp Court of Appeal ultimately found the legal action against Apache to have been an abuse of process as it had been pursued "with the intention of (financially) exhausting the defendants into silence".
Judge Zvonko Vrban (Croatia)
Vrban is the President of the County Court in Osijek. He is one of the most powerful judges in Croatia as he presides over one of the largest courts in the country. He has filed six civil lawsuits in less than two years against Telegram, its editor in chief Jelena Valentić, and Drago Hedl, the award-winning Croatian journalist and author of articles investigating suspected ethical misconduct on the part of the judge. The total amount sought in the complaints is around €120,000 in damages.
Taylor Wessing LLP is a UK law firm located in London, whose notoriety in facilitating SLAPPs and acts of legal intimidation against public participants – particularly journalists and publishing companies – reached new heights this year. In 2021, they represented various Russian and Kazakh oligarchs in expensive legal actions against e.g. the Financial Times and journalist Tom Burgis. More recently, they issued legal threats to newsrooms across Britain on behalf of UK Prime Minister Liz Truss' Chief of Staff, Mark Fullbrook.
The Winner: Judge Hrvoje Zovko
2. THE CORPORATE BULLY OF THE YEAR
Awarded to the corporation that has most aggressively pursued SLAPPs and legal intimidation tactics against its critics.
Afriland First Bank (France)
Afriland is a Cameroonian bank that launched a campaign of harassment and intimidation against whistleblowers and transparency campaigners following the publication of a joint report by two NGOs in July 2020. Alongside controversial mining businessman Dan Gertler, the bank has filed multiple criminal complaints in Paris in response to the report, which involved rigorous source-checking and separate reporting by Bloomberg, Le Monde, Haaretz and others. The bank also pursued a criminal complaint in the DRC against the two former bank employees who first blew the whistle, leading to a death sentence being imposed against them in absentia.
Valle de Odieta S.C.L. (Spain)
The company Valle de Odieta S.C.L owns what may be Spain's largest industrial cow farm in the North of Spain. Now it's behind a gigantic factory farm project that's planned to be built in the small town of Noviercas. The company filed a defamation lawsuit in March 2022 against Greenpeace Spain and its head, as well as 13 other NGOs after the groups delivered a report to the Parliament of Navarra on the company's environmental practices.
Kelkos Energy is a Hydroelectric Power Generation company, which filed two separate lawsuits against two well-known environmental activists for speaking out about the damage caused to the surrounding environment. The lawsuits asked for €10,000 and €100,000 in damages and created – with the help of a letter sent to 60 NGOs and activists warning them about the lawsuit – a chilling effect on activists and citizens in the area.
The Winner: Afriland First Bank
3. SLAPP POLITICIAN OF THE YEAR
Awarded to the politician who has proven most reliant on SLAPPs and legal intimidation to respond to opposition, dissent, or efforts at accountability.
Mary Lou McDonald (Ireland)
Mcdonald is not new to the SLAPP scene. However, April 2022 cemented the President of Sinn Féin's reputation as a SLAPP politician after she filed her third defamation case in the High Court. This time, the victim is the Irish public service broadcaster Raidió Teilifís Éireann (RTÉ), SLAPP-ed with a case amounting to some €160,000.
Grigoris Dimitriadis (Greece)
Dimitriadis, the then-Secretary General to the prime minister (as well as his nephew) is on our radar this year after filing expensive lawsuits against Reporters United, Efimerida ton Syntakton (EfSyn), and three journalists, after media stories were published about allegedly illegal practices by the government.
Turkey has become notorious for threatening and silencing journalists in recent times, and Interior Minister Süleyman Soylu has a good claim to being one of the worst offenders. A €100,000 lawsuit SLAPP-ed onto Turkish newspaper Cumhuriyet in 2021 was just the cherry on the cake – Soylu has an extensive history of eyebrow-raising tricks when it comes to silencing.
The Winner: Grigoris Dimitriadis
4. CROSS-BORDER BULLY OF THE YEAR
Awarded to the most shameless efforts by an international plaintiff to use European courts to silence criticism and dissent.
In 2021, the Kingdom of Morocco filed civil defamation lawsuits as well as an injunction and a slander lawsuit in French, German, and Spanish courts against several NGOs, newspapers, radio broadcasters
and individual journalists and reporters after they published investigative work alleging that the Moroccan administration used Pegasus spyware to spy on the mobile phones of politicians, journalists and activists.
Svante Kumlin (UK-Sweden)
Domiciled in Monaco, Kumlin filed a civil lawsuit alleging defamation and breach of an NDA against Swedish news website Realtid, who had been investigating Kumlin's group of companies, Eco Energy World (EEW). The journalists contacted Kumlin numerous times prior to- and after publishing the report. Kumlin's sole reply was that his legal counsel "will respond to [them] directly", followed by several emails and attached letters from law firms in the UK and Monaco. The defamation claim reportedly totalled a whopping €15.3 million.
Stanko Subotić (Serbia-Switzerland)
A Serbian businessman, Subotić filed a large-scale civil defamation lawsuit in Geneva in January 2021 against the media outlet Organized Crime and Corruption Reporting Project (OCCRP), the OCCRP publisher Drew Sullivan and Dragana Péco, a journalist of Serbian media partner KRIK, demanding 155,000 Swiss francs in damages – two years after the publication of an article. Subotic has record of SLAPPs: a previous case in the UK against Ratkno Knezevic was dismissed as an abuse of process in 2013.
5. SLAPP COUNTRY OF THE YEAR
Awarded to the country which has provided the most favourable conditions for SLAPPs in 2021-22.
With 18 documented cases of SLAPPs in 2021, Serbia has proven to be fertile ground for SLAPPs. By the start of 2022, the well-respected Serbian investigative journalism outlet KRIK was facing ten ongoing legal cases against it and its journalists, which international press freedom NGOs deemed to be an attack by powerful individuals to deter the organisation from its work. Many of these lawsuits are brought by Serbian politicians and other powerful figures – including a number brought by those with close connections to the ruling party.
According to the American think-tank Freedom House, Poland is the country that has witnessed the biggest democratic decline in Europe in the last five years. Throughout these years, independent media have been regularly hit with SLAPPs and spurious legal threats which has resulted in many smaller outlets and freelancers self-censoring their publications. It is no surprise that in 2021 therefore- 29 SLAPP cases were documented by CASE in Poland. The newspaper Gazeta Wyborcza is currently facing around 75 lawsuits, many of which have been brought by individuals associated with the ruling Law and Justice Party (PiS).
A year after state energy company Eni was awarded Corporate Bully of the Year 2021, Italy continues to attract notoriety for the number of SLAPPs pursued in its courts. Despite multiple warnings of the "chilling effects" of the country's defamation laws by the ECtHR, defamation continues to be a criminal offence – punishable with a fine of up to €50,000 or custody of up to six years – and an absence of procedural protections provides ample opportunity for SLAPP claimants to stretch out proceedings. As with last year, we've also seen senior lawyers engaging in aggressive legal intimidation tactics – including former Prime Minister Matteo Renzi.
BONUS AWARD: OPPRESSIVE OLIGARCH AWARD
In tribute to Ukraine – and to the Russian legal bullies who have tenaciously pursued SLAPPs against those who have tried to expose their links to the Putin regime – CASE will this year be introducing a bonus category: Oppressive Oligarch of the Year. It's certainly a competitive field…
The Russian billionaire and industrialist launched a legal attack against a number of journalists and activists this summer following the publication of an investigation that alleged, among other things, that Deripaska gave bribes to Russian Foreign Minister Sergey Lavrov. The lawsuit targeted, among others, Alexei Navalny and the UK-based DMG Media company, and demanded – among other things – that Navalny remove from the Internet a photo of Deripaska and Foreign Minister Sergei Lavrov.
The Russian oligarch and politician filed a civil defamation lawsuit in March 2021 against Catherine Belton, journalist and author of the book Putin's People, and HarperCollins, publisher of the said book. The lawsuit concerns statements in the book 'Putin's People', which he claimed were untrue or inaccurate. While Abramovich's lawyer denied any sort of coordination, the lawsuit was one of five lawsuits filed in the same week by Russian oligarchs – three of whom were represented by the same lawyer – as well as the state oil company Rosneft. Had the libel trial gone ahead in the high court, the legal bill was expected to have exceeded £10 million.
In 2021, Russian oligarch Prigozhin, also known as 'Putin's Chef', filed a lawsuit with the High Court of England against the founder of Bellingcat, Eliot Higgins. The proceedings concerned several tweets from Higgins' personal Twitter account about Prigozhin's links to the paramilitary Wagner Group, which mainly just linked to articles published on respected news websites. The case was struck out for repeated non-compliance with Court orders, but only after tens of thousands of pounds were spent by Higgins on the case. Since the case was struck out Prigozhin has admitted founding the Wagner Group, saying he was "proud" of his role in the group's activities.
The Winner: Yevgeny Prigozhin